September 27, 2020 New Puppies!
Josie delivered a really lovely litter of puppies. We have 1 boy and 6 girls! We are lucky that each puppy has a great home waiting for them to grow up and head home!  I will catch some pictures and post them shortly!
April 2020:  Puppy Status
We have had a lot of inquiries from really lovely families and individuals looking for a puppy.  So many, I am having a hard time answering all promptly. Unfortunately, we don't have puppies now and likely won't have our next litter until the fall 2020. I wish you well and hope you and your family stay safe during this difficult time.
Litter of Puppies … June 30, 2019 
MacPhail Litters Over Time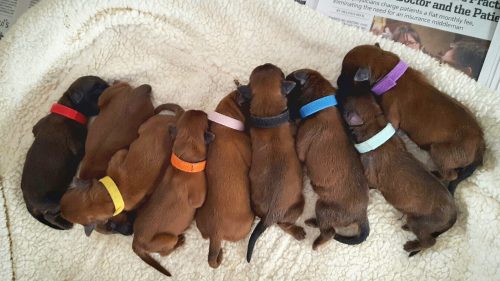 9/27/2020 GCHB MacPhail Wicked Live Wire … 1 Boy and 6 girls
6/30/2019 GCHB Sundance's Lucky Rover x GCHB MacPhail Wicked Live Wire… Bowie x Josie …. 1 boy and 3 girls
7/10/2018 AM CAD CH Mackanme From All Around  X GCH Mackanme A Wicked Good Tale  …. Drifter X Salem… 5 boy and 2 girls
3/10/2017 GCH Mackanme Patriotic Justice X GCH Mackanme A Wicked Good Tale …. Justice X Salem…. 5 boys and 4 girls
8/18/2014 AM CAD CH Mackanme Foreign Affair v. Bodasca X GCH Mackanme A Wicked Good Tale …. Euro X Salem… 5 boys and 1 girl
4/15/2007 CH Villa Rosas Dun Dryk Star O'Kaler X Brookdene River Dance…. Danny x Misty…. 4 boys and 2 girls
6/9/2005  CH Villa Rosas Gwerbret O'Redhill X Brookdene River Dance….Jarl X Misty…. 4 boys and 1 girl
7/7/2003 CH Villa Rosas Paddy X Brookdene River Dance…. Paddy x Misty…. 5 boys and 1 girl