MacPhail From Rex Autem Spiritus
Sire: CAD CH Mackanme From All Around (called Drifter)
Dam: GCH Mackanme A Wicked Good Tale RATN  (Called Josie)
Whelped: 7/10/2018
AKC Reg#: RN32351904    CHIC#: 189259    SCWTdb ID:71455
Health testing: Normal Eyes, PLN 0/0,  DM 0/0, Hips Good, Eyes Good, MO-SCWT Clear.
Rexx is the green collared puppy in his litter. Rexx has a beautiful coat of color and waves and is a super friendly boy!  He lives in Maine and enjoys walks on the beach and in nature everyday with his person. As a result he has a strong muscular body, lots of energy and joy of life! He loves everyone he meets and most love him right back!!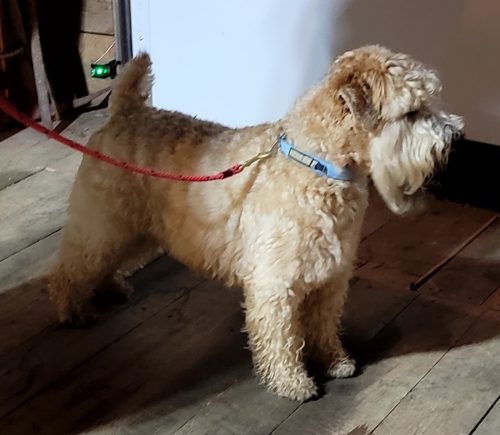 Pedigree of "REXX"

Parents
GrandParents
GreatGrandParents
SIRE

CAD CH Mackanme From All Around 

CH Tara I Get Around
CH Stratford Top Brass
CH Tara's Life Is A Beach
CH Mackanme Glory Hallelujah
CH Candance Daze of Thunder
AM CAD CH Mackanme Tribute to Bodasca
DAM

GCH Mackanme A Wicked Good Tale RATN HA2

CH Marymore Hot Pepper Jack HA2
CH Legacy The Grail
CH Marymore First Triple Axel
CH Mackanme Tale of Bodasca
AM CAD CH Glenamon Gleanngay He's Key 2Me
CAD AM LUX GER-VDH/KfT CH Dogside's Love Potion For Bodasca