Interested in a show dog ??   I am interested in hearing from you! 
Sep 3 2023   How can it be?? Its been almost a year since I posted news and there were so many things going on! Lets try to catch up:
Bean has had a wonderful year!  She finished her Grand Champion title. She went to AKC National -Royal Canin Show Dec 2022 and placed Best of Opposite.   She was #1 National Owner Handler SCWT for 2022!! She took Select SCWT at Westminster in May 2023! She took BIS at a Grooming Contest with Kathy. And had a bunch of great wins and Group Placements in between. Now we  look forward to what she will bring us from the whelping box.
Coco started showing and became a Champion. She is a cutie! She keeps us on our toes at home where she watches for the deer and chipmunks and rabbits and sometimes squirrels. She dreams of being a big huntress someday!
Finn is doing great.  And Finn's show daughters are all Champions now! Big congrats to their Breeders and Owners!
          Goldie – CH Mackanme Real Gold For Gemstone 
          Sailor – GCH Roxstar's My Lady Is The Sea…. also achieved her Grand Championship!
          Ellie – CH Sandcastle's Love Me Like I Do
          Holly – CH Sandcastle's Live, Love, Laugh in Hollywood
Pippa left us to enjoy her forever home and live the good life in Maine. She has the most wonderful family. There are even wheaten buddies in the neighborhood and  she has a special cat friend and is so happy. We miss her every day.
Clancy is retired from showing and enjoying the good life with his busy family. He is such a sweetheart and brings happiness where ever he goes.
This fall 2023 and winter 2023-2024 I hope to be spending time in the whelping box having some puppies. I will do better communicating and let you know how that goes!
Sep 11, 2022:  Clare is now CH MacPhail Light of Fanad as she took her second 3pt major on Sunday Sep 11, 2022 in Bridgewater NJ at the Westchester Kennel Club show under Judge Geir Flyckt-Pedersen. She was WB and BOW!
Sep 10  and 11, 2022:  Sailor, Roxstar's My Lady Is The Sea, who is a daughter of our boy Finn, took Reserve Winners Saturday and Sunday at the prestgious and well attended shows in NJ. She is n the 6 to 9 m class. Here is her photo from October 2022 at the SCWT National Specialty at Montgomery KC where whe was first in her 6 to 9 mo class.
Aug 28 2022:  Judge Cindy Vogels did a CAP session at the WSpr show site. CAP = Conformation Assessment Program. Kathy and I took Bean in for an evaluation. Cindy Vogels was so thorough and considerate. The dog was measured with a wicket and tape measure, moved, felt all over and examined and compared to the Breed Standard. It was very educational and enjoyable. I highly recommend participation in the CAP program if it comes near you.
Aug 25 to 28 2022: At the W Spr shows, Clare picked up 3 more points and now just needs 1 major to finish. Coco surprised all of us and took two 3-point majors over the weekend!!! I'd say she is off to a good start.
Aug 22 2022: Clare picked up a 4 pt major at the Boxboro shows!!! Now at 10 pts
July 2022: We are so pleased to announce that 2 puppies have joined the MacPhail family. COCO has come to us from Florida where Linda Robison and Emily Holden had a beautiful litter out of Solo x Callie. Solo is a handsome boy from our friend Jeri Voyles. She is quite lively and plays with Pippa endlessly. THEO has come to us from Florida also out of a litter of 10 puppies bred by Sherri Kase-McKenzie. Theo's sire is our boy Finn. He lives with a fabulous family and we are so excited about the future with Theo.
Westminster in June 2022:  Its only a few days away now—We re so excited that our CLANCY will be shown at Westminster this year!! Watch for him.. he will be the great looking, great moving one handled by Catherine Pikul!
June 12, 2022: Kathy and Bean took Reserve BEST IN SHOW OWNER HANDLED !!!!! wow!!! Check out this win photo!!!: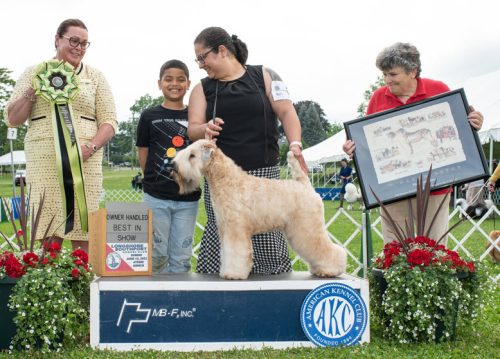 Feb 21 2022: Franklin took WD and BOW twice in his first shows! He picked up 4 points!
Jan 30 2022: AKC sent a Puppy of Achievement award to Clare!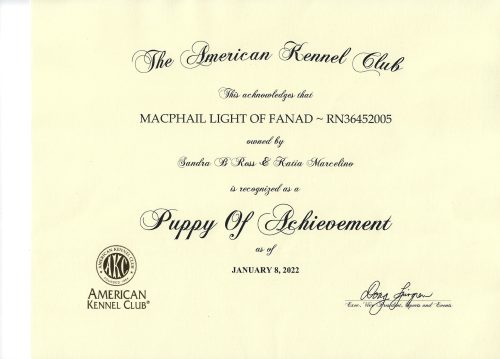 Jan 9 2022: Clare took Best of Breed for 2 more CH points!
Dec  2022: Clancy was rewarded with an Award of Merit at the Royal Canin in Orlando FL 2021 AKC National Show.
Nov 2021: Bean finished her AKC Championship!! And won 2 NOHS Terrier Group 1's ! On a roll.
Nov 2021: Clancy finished his AKC Grand Championship!! He is getting ready for his trip to Orlando FL.
Nov 2021: Pippa finished her AKC Grand Championship!
Nov 2021: Clare went to her first shows for points and picked up 2 CH points.
Oct 2021: Clare was entered in 2 weekends of 4 to 6 month Puppy competition and did great.. even winning Best Puppy Terrier Group 1 twice.
July 3 2021:  We have a NEW Grand Champion! Molly finished her title today at the Wrentham MA shows. She did so well.. she had one 4 point major and the rest of her points were 5 point majors over other Champions!
June 30 2021: Happy Birthday to Clancy, Molly, Mazey Mae and Rylee Rose! You are already 2 years old.. wow that went fast!!!
May 23, 2021: Josie and Pippa had puppies on the same night! They started into season about 10 days apart.. but somehow they moved closer together as we went along and then they both delivered their puppies on the same night. We got through, but I do recommend better planning! The puppies are beauties. Josie x Bryr Rose Matisse had 2 boys. Pippa x Sundance's Lucky Rover has 5 puppies, 2 boys and 3 girls.
April 28, 2021: So much news!! First I am excited to announce that Molly became a new AKC Champion— she is now CH MacPhail Goin' Lucky!! Thanks to Catherine Pikul who took her to shows in April. They made a great team winning majors and points and a new title!!
Next- I am very exited to announce that Finn has sired 5 puppies in the Netherlands!! There are 4 boys and 1 girl.
Next: We are expecting puppies puppies near the end of May. I have a hefty list of families who were waiting since my last litter and shortly I will contact them all to verify that the timing will still work for them. But- we are excited!
April 1, 2021: Finn is expecting to be dad in the Netherlands!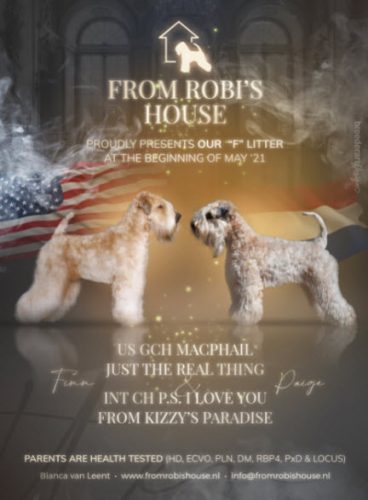 March 5, 2021:    CH MacPhail Goin' In Style  It's official that Clancy has completed his AKC Championship! We are so proud of him! And of his friend Kathy R who handled him in the ring for me.  Thanks to his special family who let us show him! BIG congrats to all!!
January 24, 2021 : My puppies have been sending me the most gorgeous photos of their new happy homes. It makes me so very pleased to see them having fun and growing up. Clancy and Molly are hoping to attend a show in early February 2021. My hope is that Clancy will get a point and finish his Championship. Molly has not been to a show since before covid and we hope she shows her beautiful self and has a fun time… it would be super exciting if she picked up a point .. but more important for her to settle back into the show routine.
December 11 2020: Getting ready for this coming week… the last of the puppies will be heading to their homes and we will be empty nesters… for a while anyway!
December 7, 2020: They are leaving me… so sad for me. Fortunately they are all going to wonderful homes who have waited and wanted them for so long!
November 16, 2020: Puppies are 7 weeks old and so so busy now!! Everyone is doing great. And we are starting to work on preparing for them to go to their homes– introduction to car rides, leashes, and crates.
October 10, 2020:  Everyone is doing well and the puppies are getting big and strong! They are really so cute!
September 27, 2020:  Josie has her puppies! There is 1 boy and 6 girls.  They are doing well and Josie is a great momma!
Aug 13, 2020:  We live in interesting times! I came to Florida for a few weeks of "girls" vacation in Feb with just my Mom and my wheatens. Then we locked down here because of COVID. And… well.. we are still here not wanting to take the risk of driving or flying back north. Its a lovely place to be  — well, overlooking the hurricane warnings! — but, of course, its not New England with our family – who tell me they are having a nice hot summer.  I was planning a litter of puppies for the fall and I have a list of wonderful homes in the northeast hoping for wheaten puppies. But, at this point, I am committing to staying in Florida until winter at least and maybe until there is a vaccine. I have written to them. I am so sorry I wont be able to put puppies in those homes this time. Maybe next litter.
July 15 2020: My friend Kathy has been keeping our puppies clean and well groomed up in Massachusetts while I am in Florida. Here is Molly, Clancy, and Kathy's boy Duke have a COVID pool party!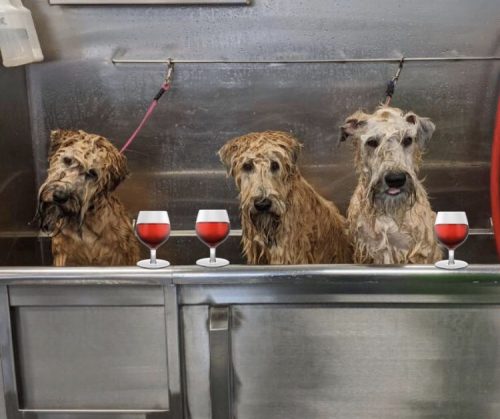 June 30, 2020: Tried to keep our party hats on to say Happy 2nd Birthday to Pippa and her litter mates! But we did find the hats a bit tricky!!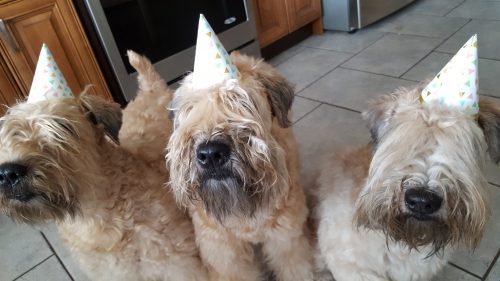 April 19, 2020:  Hi! We are all trying to stay safe and that means staying separate.  A bit of cabin fever might be hitting us however.  I have had a lot of inquiries about puppies. Unfortunately I don't have puppies now and likely won't have my next litter until the fall at the earliest. Hopefully by then dog shows and so many other activities will return as part of our "new normal". Meanwhile, we are hoping that you and your family and all your pets are staying safe and healthy.
Jan 21, 2020:   EXCITING NEWS!!   Our show puppies from Josie and Bowie's litter went to their first shows in Wilmington MA. We saw some puppy behaviours in the ring (!) but they were pretty good looking!! They each took Winner's for 1 Championship point each day.. and just like that they are on their way! I had some help from Katherine Roldan and our friend Kayla to get the 2 puppies and Pippa into the ring. Pippa picked up 6 Grand Championship points too so it was a Wicked Fun weekend for all of us!! Show pictures to follow.
Dec 31, 2019: Merry Christmas!! Happy New Year!! Happy New Decade!! This was our Christmas Card this year… it is Salem 9yrs, Pippa 1 1/2 yrs, and Josie 5 yrs (from left to right).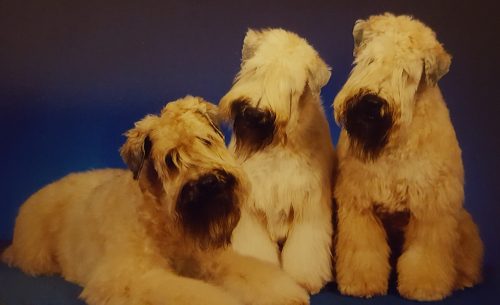 Dec 15, 2019:  Finn won an Award of Merit at the Royal Canin AKC National Dog Show in Orlando Florida today! I am pretty happy about that!! He looks so good. Catherine Pikul groomed and handled him and they made a great team!!  Here is a photo of his last moments preparing before ring time. Official photo later!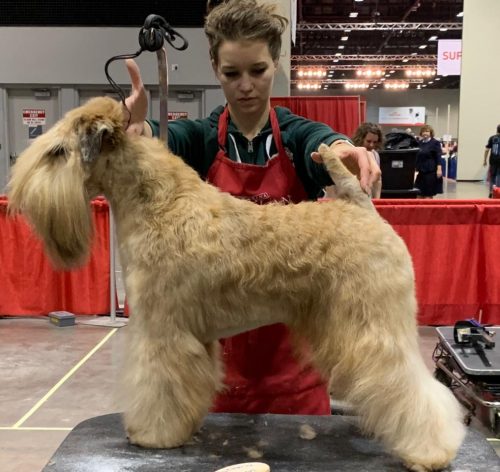 Dec 8, 2019: Finn was shown in Oaks PA this weekend and he earned the last point needed for his NEW GRAND Champion title! Congrats FINN!!
Dec 8, 2019:  Pippa was shown in W Springfield Friday, Saturday, and Sunday. She won 3 Grand Champion points over the weekend.. and we had a lot of fun! I will post official win photos and her Christmas photo as soon as I get them.
Oct 23, 2019:    I took Salem and Pippa to the Vet today for their annuals. I ran into Clancy there!! He is Josie's boy who is now 16 weeks old and my male show prospect !  He and Molly will come to visit next week for grooming- I will try to get some photos!
Oct 20, 2019: Finn has been doing great working towards his Grand Championship! This weekend he took Best of Breed each day! He now has 20 GCH points (needs 25 for the title). And he has his 3 majors and he has won over other Champions on four occasions (once over 4 other Champions in the PA show!).
Oct 15, 2019: Josie's puppies have all gone to their new homes and are doing great! Their names are Rylee Rose ( Lt Pink Collared Girl), Mazey Mae (Dark Pink collared girl), Clancy (blue collared boy), and Molly (purple collared girl).  I am hoping you will get to see Clancy and Molly in the show ring in the future!!
New Website. Aug 2019.. DogWebs set up this nice website for me. Should have done this earlier. Right now, we have Josie's puppies 7 weeks old and getting prepared to head to new homes. Hoping the last one is placed in a show home..